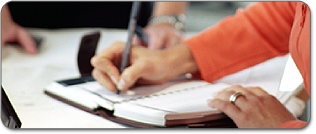 From real estate brokerage firms to individual appraisers, we can help you find affordable coverage. More About Our Products
Call (800) 405-5005
to speak with a Client Services Specialist about your E&O Insurance needs, or complete our online application.
RESSI Clients' Success Stories
At RESSI™, we're dedicated to each and every one of our clients. We believe great service is the key to long-lasting relationships. We pride ourselves in going above and beyond what is expected. Our clients feel the same way.
"We just wanted to thank you for the all the extra effort you both put into our E&O renewal. You both went well above and beyond what most agents would have done."
Michael Frye RE/MAX Realty Group Florida
"After receiving a quote from one of your competitors, I chose to go with RESSI. To me, the primary reason for sticking with RESSI was Christina Acor and my past experiences with other representatives. Christina was very easy to work with, always prompt in returning phone calls and e-mails, and always willing to take a few moments to explain things to me. You have an outstanding Account Executive in Christina!"
Jeff Appraiser South Carolina
"I've used RESSI™ for years because of their consistent quality and ability to find the coverage that works best for me.Vickie Wilson has been very consistent over the years with her service and problem solving (when needed). She has been a great source of information, support, and timely service."
Kelly Appraiser
" I received my new policy today and I just wanted to say thank you once again for the excellent service and assistance you provide my company each year. I enjoy working with you and appreciate all you do for me and my company."
David Humphries Premier Realty Texas
"RESSI™ has handled our E&O Insurance for many years. Being in Real Estate, my company focuses on client service as our number one goal. Our company is now starting our 37th year in business. The reason I stay with RESSI™ is their good service, knowledgeable staff, and their ability to negotiate with different insurance companies to acquire the best rates for our E&O Insurance."
Carl Daywood Carl Daywood Realtors Texas
"Aliah Franco is awesome! She understands her business through and through. She explains the various policies being offered in an understandable way, and she looks out for her clients. I am a RESSI™ customer and speak from lots of first-hand experience."
Scott Myers Century 21 Scott Myers Realty Texas
"As counsel to Ebby Halliday, REALTORS® and other real estate brokers, I have worked with RESSI for 20 years.  During that time, RESSI has become a valuable member of the team for my clients.  Helping with insurance has just been one part of all it does for us.  RESSI has also helped to keep us informed of developing trends around the country, new innovations in the market and has been a general resource for information bearing on risk management programs.  I highly commend their efforts on behalf of our clients and recommend them to any real estate broker making decisions about its professional liability coverage."
Kent Newsom Ebby Halliday, REALTORS® Newsom, Terry & Newsom, LLP Texas
REAL ESTATE SUPPORT SYSTEMS, INC.
1511 Kastner Place • Sanford, FL 32771
Local: (321) 282-0084 • Tel: (800) 405-5005
Fax: (888) 909-3231